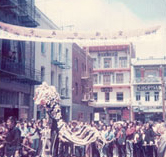 The Leung's White Crane history is a compelling story in itself. The dreams and passion of three young brothers would create one of the most influential and commanding martial arts and lion dancing schools in North America. Its rich history of 35+ years proves its stability, dedication and drive.
It all started in China as 3 little children prancing around the house with banging kerosene cans and blankets tied to baskets, mimicking the ancient lion dance. The Leung brothers - Kuen, Kwan, and Allen – would take that energy and train in martial arts with the village master in the Hung Gar (Tiger/Crane) style. The brothers soon found themselves working in a Hong Kong garment factory, working and devoting their time to Martial Arts and lion dancing. Almost every penny earned was used to enroll them under the White Crane Academy instructed by Master "Kwong Boon Fu" who was a student of the great grandmaster of white crane "Ng Siu Chung". They practiced on their downtime from the factory eventually graduating and all becoming Masters in the White Crane form. Each of the brothers would find their niche as Kuen found his in the lion dance, Kwan would concentrate in the martial arts, and Allen would immerse himself in the sparring and drumming.
Chance had brought them to the US for a better opportunity. After careful consideration, the brothers decided to open a school of their own. They found a small studio in Oakland Chinatown, and would open its doors in 1971 with 4 students. It eventually rose to over 25 students taking in students from all walks of life, making it one of very few schools to do such. The school would eventually grow and so its operations relocated to San Francisco's Chinatown in 1973. There the brothers established the name Leung's White Crane Dragon and Lion Dance Association.
Success at a large scale would come in the 90's for the Leung's. A huge shock would be made in Eastern World in 1992 as the Leung's took 2nd place in the Hong Kong Urban Council World Lion Dance Tournament. A place so high for a US team was unheard of in Asia as lion dancers Darren Low and Benson Louie would dance the US into a position to be reckoned with. The following year the Leung's launched a Junior Lion Dance division (which included Allen's son Clifton) which competed and took 1st place and 3rd place shocking the crowds as the juniors looked just as good as the adults. A few years later an all-girls division would be developed by Sharon Kwok.
70's
- LWC opens in Oakland 1971 starting with 4 students.
- LWC relocates to San Francisco with Wei Mo Association in '73, also establishing the name under Leung's White Crane Kung Fu association @ 32 St. Louis Alley on Jackson Street.
- LWC deeply gets involved in community work with Chinese Hospital, and Chinese Benevolent associations including other numerous charity work for the Chinese community. The Charity work continues to this day.
- LWC makes its debut in the San Francisco Chinese New Year Parade as the finale and to be remained at that position there until present day. This Parade is the largest Lunar New Year Celebration outside of Asia.
- Martial Arts is the main concentration during the 70's.
80's
- LWC permanently changes uniform to the colors of white, green, and red
- LWC converts to the new hybrid of lion dances introduced in Hong Kong and Macau.
- LWC debuts show of hybrid lion dances in Vegas at Caesars Palace which would open the doors for the many shows to come.
- LWC debuts in first major film and television shows including music videos, and cameos. Their appearances also including morning talk shows and commercials.
- LWC called upon for kick off campaigns for numerous high authority figures including former mayors of San Francisco, senators, congressmen and governors.
90's
- LWC competes in the international scene winning 2nd place at the Urban Council World Lion Dance Competition in Hong Kong marking the first and only USA team to such a feat.
- LWC junior lion team division debuts and takes 1st and 3rd place
- LWC continues to travel performing all over the country and in Asia.
- Development underway of all female lion/martial arts/dragon division
2000's
- Genting Highlands Western Lion King Title
- LWC celebrates their 30th Anniversary 2001
- Launch of Global Website www.sfwhitecrane.com
- Girls Dragon Team and competes winning 1st Place western dragon title.
- Continuing to compete in all over North America placing in Winnipeg, Hawaii, San Jose, San Francisco.
- Leung's White Crane Day established August 18th, 2001 in San Francisco.