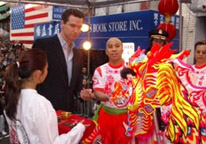 Leung's White Crane Dragon and Lion Dance Association
Fueled by a lifelong passion in the ancient art form of lion dance and martial arts, three brothers—Kuen, Kwan, and Allen Leung— established a struggling school in Oakland, California in 1971. Their goal was to create a youth club, which not only upheld and preserved the traditions of the ancient art, but also to promote brotherhood and respect in its system. As time progressed, its operations permanently settled in the heart of San Francisco's Chinatown.
The Leung brothers' timeless devotion has proven to lead the troupe into one of the biggest and finest lion dancing and martial arts schools in North America, with more than 350 active students and alumni. Their vision runs deeply in their students, and runs even deeper in their bloodline. Each of the three brothers' sons honors the Leung's mission and hold distinctive roles within the association: Kuen's son, Daniel, has become the headmaster in the martial arts division; Kwan's son, Jimmy, coaches the advanced, modern lion dance division; and Allen's son, Clifton, manages all operations and events.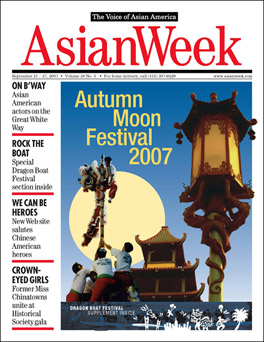 In its 37+ year span, Leung's White Crane has promoted and participated in copious amounts of shows, celebrations, films, competitions, and charity work all over North America and Asia. The troupe's most phenomenal exhibition can be viewed annually during the grand finale of Chinese New Year Parade. Generations of Leung's Students carpet the streets of San Francisco with blaring drums, clashing cymbals, soaring lions, and dancing dragons. The longest and most colossal recorded dancing dragon outside of Asia can be seen conducted by Leung's White Crane during this extraordinary celebration.
Leung's White Crane comes highly skilled and professionally trained, holding many titles and numerous accolades. It has officially confirmed its place in the international lion dance arena holding the "Western Lion King" title. The troupe is also the only North American lion dance troupe to place in the Top Two at a major international lion dance tournament. Leung's White Crane continues to represent the United States in their quest for the highly regarded "World Lion King" title. The Leung's White Crane Dragon and Lion Dance Association continues to follow and redefine the purpose of being a renowned lion dance and martial arts organization.